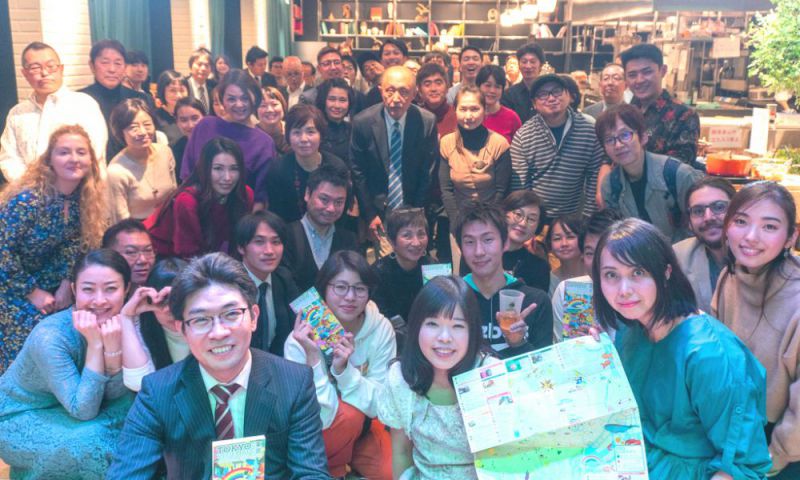 On 15th December, we held our End-of-Year party in collaboration with Green Culture, Inc.
The event was initially planned for 75 attendees, but since we received over 100 applications, we increased our admission to 90 people – the maximum that the venue would permit.
We are extremely grateful that people came from prefectures all over the country.
The excitement within the vegan-vegetarian movement is evident from the participation of so many people! We hope that for all attending, it was an opportunity to meet new people and deepen existing networks.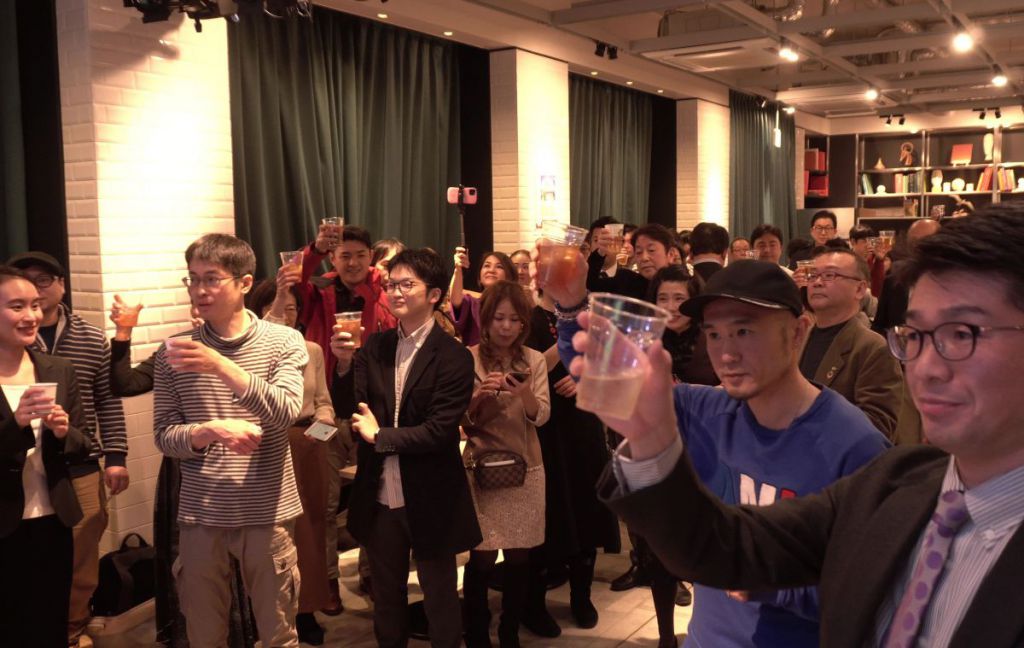 The attendance of those from a variety of backgrounds was appreciated, from companies already producing veggie/vegan products, to those in the process of doing so, and including farmers, chefs, managers of cooking schools, companies handling vegan cosmetics, veggie/vegan organisations and individuals interested in the veggie/vegan lifestyle.
After a 'Ganpai' toast to start the evening, so began the welcome and introductions by Satoshi Kaneda, President of Green Culture, Inc., and Haruko Kawano, Representative of VegeProject Japan.
(The video summary of VegeProject in 2019 will be released soon!)
Then followed a panel discussion between Satoshi Kaneda and Haruko Kawano on 'Vegetarianism and veganism to date & going forward', facilitated by vegan food analyst Emika Iwata.
After the discussion concluded, so began the bingo competition, in which all attendees were able to win a vegan prize.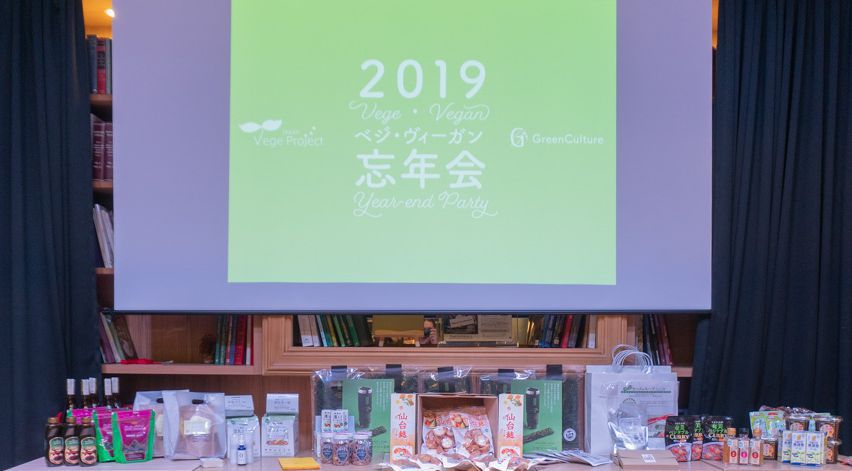 Lined up on stage were products that are already VegeMark vegan-certified and products in the process of obtaining the VegeMark, and also goods donated by companies related with VegeProject and by those in attendance at the party.
The prizes were as follows:
Tonkotsu-style vegan ramen soup (currently only on sale for business use – Mitsubishi Corporation Life Sciences Ltd.)
Shredded dried kelp (kombu) (Kombu fisherman Junya Okayama)
Sendai-fu slices 14-40g ・Rusks (Yamagataya Syouten Co., Ltd)
Organic Plum Vinegar set (Fukami Umeten Co., Ltd)
Amami Medium Spice Vegetable Curry (Kaze to Hikari Co., Ltd)
Nyumen Noodles for 2ppl (Vegetable Soup flavour & Salt flavour) (Misohan Co., Ltd )
Pasta Sauce (Root Vegetables & Soy Meat Bolognese flavour, and Mushroom Soy Milk Cream flavour) (KAGOME Co., Ltd)
Germinated Brown Rice (Farmin Organic Farm)
Rice-based allergen-free Mayonnaise, Yoghurt and Rice Milk gift set – part of the 'ALLER-NON' range (Yasaka Co., Ltd)
Premium Caramel Mixed Nuts exchange coupon (The Nutty Bavarian)
Gluten-free Rice Flour Bread & Bagels (Miwanouen)
Almond Milk (Tsukuba Dairy Products Co., Ltd)
Dried Enoki Mushrooms (Kanekokinokoen LLC)
LOVECHOCK Organic Raw Chocolate (Kaze to Hikari Co., Ltd)
Savoury Soy Crackers Set of 3 (Cocci Lab Inc.)
Additive-free soy milk・Hijiki Seaweed & Soybean Mix・Red Miso Paste ・Mixed-Bean-Salad・ (MARUSAN AU Co., Ltd)
Bio-wine (Domaine Hide)
There were so many delicious vegan food & drink products!
The gifts were not limited to food items! Products free from animal-derived ingredients and without animal testing are also vegan. Such products included:
'Authentic Tsubaki (Camelia) Oil'  (Silis Japan Corporation)
Vegan Lip Colour & Case set ・ Package-free Naked Bodycare set (LUSH Japan Co., Ltd)
Vegan Natural Soap (Yotsuba Labo LLC)
We would like to express our sincere gratitude for the generous donation of such high quality vegan prizes.
We also enjoyed a 100% vegan buffet, tailored especially for the event.
'Vegan Chunks' sold by Nisshin shokai Co., Ltd were used in the vegan 'Beef Stew' to recreate the meaty texture and flavour of beef. Perhaps too similar for some vegan tastes!
The rest of the menu can be seen in the pictures. It included creamy and rich flavoured feta-style vegan cheese made into a delicious salad. Other dishes were full of vegetables such as spring rolls, curry, and vegan lasagne, followed up with dainty chocolate cakes for dessert.
We are very grateful for the attendance and cooperation of  so many people on this occasion.
Thanks also to all the companies who have collaborated with VegeProject in the last year, and to those who have helped VegeProject to grow.
For those who we haven't yet had the pleasure of working with, we look forward to your future collaboration as the vegan-vegetarian movement continues to grow.
Let's create even more vegan options in Japan!
We appreciate your continued support of VegeProject Japan and we hope you have a wonderful year in 2020.