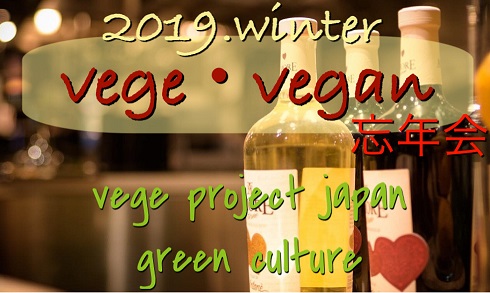 This event is a collaboration between Green Culture, Inc. and NPO VegeProject Japan!
【UPDATE: SOLD OUT】Thank you for your interest in our event! 
A lot has happened in the vegetarian & vegan movement this year!
Let's surround ourselves with vegan food and celebrate at a Year-End Party for those interested in veganism, and especially for those active in the vegan world!
There is a bingo game planned, where all participants will be able to bring home vegan gifts.
You will likely discover some vegan products you didn't know existed!
For those who'd like to attend, we would appreciate if you could please apply & confirm payment in advance.
Your sign-up will be completed once payment is confirmed.
Overview
Date & Time: Sunday 15th December 19:00-21:30 (Doors open 18:30)
Location: nu dish Deli & Café
Tokyo, Chuo City, Ginza, 4-8-4 Sangen Building 1F
Participation fee:  3700 yen  (advance payment necessary)
Including vegan buffet + 1 drink + gift
Dishes (Planned): Vegan beef meat stew/Chinese soup/Salad (3 kinds)/Gratin/Marinade of vegan cheese, sundried tomatoes and rocket/Spring rolls/Vegetable pilaf/Petite chocolate cake
Cancellation procedure:  No refund if cancellation is within 3 days of the event. For cancellations 4 days or more prior to the event, the payment will be refunded minus remittance fee.
Info:  We will hold a Year-End party for those in the veggie business world, hosted by Industry-leading Green Culture, Inc., and NPO VegeProject Japan, responsible for the VegeMark (vegan/vegetarian certification) and production of the VegeMap. Please join us at this opportunity to exchange real opinions within the veggie industry. This is an event open to companies already selling vegan products, chefs & cooking researchers, and individual vegans & vegetarians. Please also feel free to participate if you are interested in the vegan/vegetarian industry. There will be a bingo game where everybody can take home vegan goods.
*Please do not attend in the hopes of soliciting multiple businesses.
Participants: 75 max (Registration will close once capacity is reached)
Sponsors:  Green Culture, Inc. × NPO VegeProject Japan
*Our staff will be taking pictures at the event, some of which will later be shared publicly.
If you do not wish to appear in these please let us know in advance.
How to Apply
1.Please send the following information by email:
Subject: 'Year-End Party Application'
Message contents: Participants' names (please include the number of participants)
Send to: event@vegeproject.org

2.Please confirm payment in advance.
How to pay:
1.Bank transfer (the customer is responsible for any payment fees)
■ From Japan Post Bank: Code: 10150 Number: 86163871
■ From a different financial institution: To Yucho  bank, Branch Number: 018, Regular Deposit, Account Number: 8616387,  Tokuhi) VegeProject Japan
2.Credit Card Payment(VISA、Master、AMEX only)
*Please note there is a system charge of 150 yen
*Payment is one individual at a time, so please push the button for the required number of people

For any queries, please contact event@vegeproject.org
*Since we cannot guarantee to see all enquiries made on social media platforms, please be sure to contact us by email.
Hope to see you there!